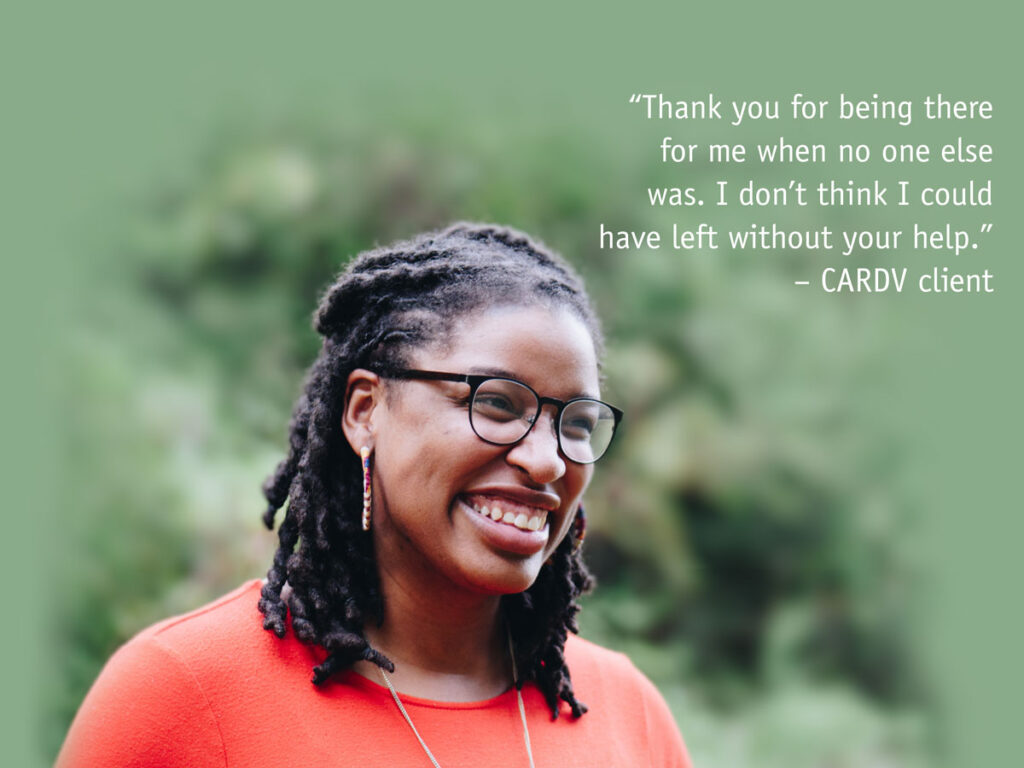 The Center Against Rape and Domestic Violence (CARDV) is registered as a 501(c)(3) non-profit organization, which means that contributions to CARDV are tax-deductible to the extent permitted by law. CARDV's tax identification number (EIN) is 93-0792125
For questions about donations, please contact our Director of Donor Development at (541) 758-0219, ext. 301 or ireland.derosia@cardv.org
CARDV's Community for Safety Monthly Donor Program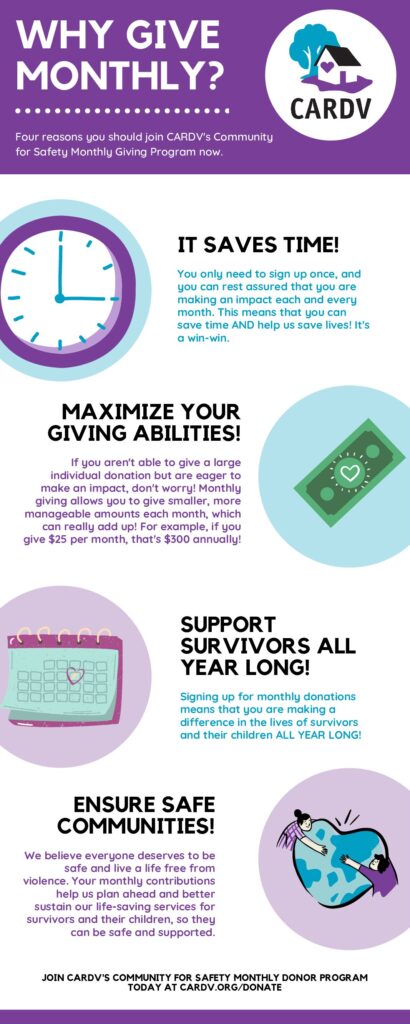 Monthly donations make giving easy and effective. When you join CARDV's Community for Safety, your monthly donations allow us to plan ahead to better sustain services for survivors and their children long term. Monthly donations are also an easy way to be philanthropic all year long! You only need to sign up once, which saves you time while helping us save lives. Together, we can ensure that survivors in our community have access to safety and support.
Still aren't convinced? Click here or on the "Why Give Monthly" graphic to read more about why you should consider becoming a monthly donor.
Donate by Mail
Please make checks payable to:
CARDV
PO Box 914
Corvallis, OR 97339
In-Kind Donations
CARDV is committed to keeping our community safe, which also means protecting our staff, clients, and supporters from COVID-19. At this time, we have put a pause on the acceptance of item donations. We will update our supporters once we have opened our doors to item donations again. Thank you for your continued support, your support, and for helping us keep our community safe and healthy!
Become an Event Sponsor
Our awareness and fundraising events are sponsored by supportive and generous local businesses and community partners. Sponsoring an event not only helps you support survivors and their children, but it also provides an opportunity to promote your business and connect with the community through philanthropy. Interested in learning more about current sponsorship opportunities? Contact Ireland DeRosia, Director of Donor Development and Community Engagement, at (541) 758-0219, ext. 301 or by email at ireland.derosia@cardv.org.